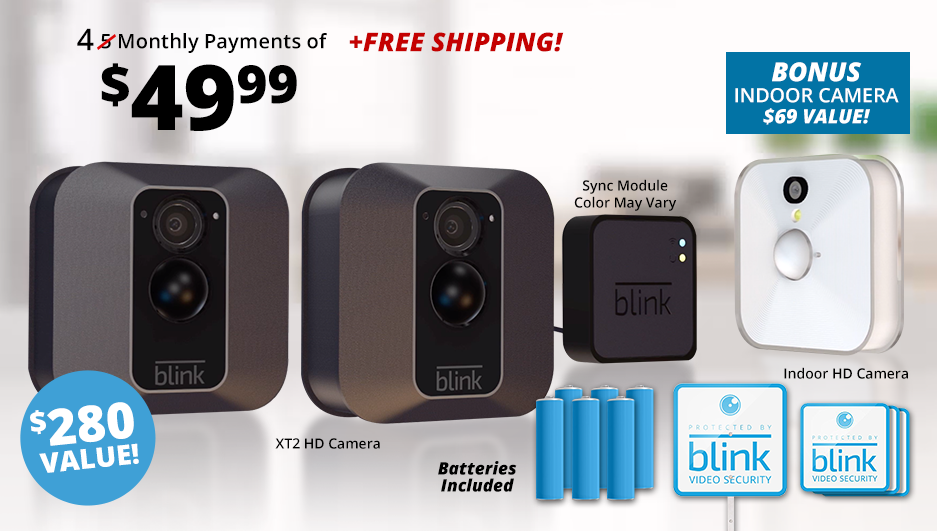 Watch The Show
How It Works
Testimonials
XT2 Features & Benefits
Wire-Free, Weather Resistant, 1080p HD Camera
Uses 2 AA Lithium Batteries (Included)
Power-On-Demand Technology Allows Batteries To Last Up To 2 Years**
Easy Installation - No Technician Required
Add Up To 10 Cameras (Per Sync Module)
Monitor On Your Smartphone Using The Blink App
Live View Recording
2-Way Talk/Audio
No Monthly Contracts
Works With Alexa
Free Cloud Storage - Keep Hundreds Of Clips Stored For Up To A Year

Camera Range
110° field of view / 20 ft
motion detection range

Night Vision
Actual Customer Video

100 ft Range
From Sync Module
Add Up To 10 Cameras Within
100 ft of Sync Module
Click Here to Order Now
Motion Alerts

When Blink cameras detect motion in your home, they send alerts to your smartphone in a few seconds.

Live HD Videos

Check your home with live HD video and audio streaming right on your smartphone from any of your cameras.

Night Vision

Use the new Blink XT2's infrared night vision or the LED illumination from our indoor Blink camera to see what's happening at night.

Weather Resistant

Our water resistant Blink XT2 ensures clear, HD quality video no matter what the forecast entails.

View the image full size

HD Video

720p HD video capture ensures that you get a clear view of your home or business, with minimal distortion or blurring.

Motion Detection

Blink's feature-rich system includes a motion detector; when armed, any detected motion triggers the recording of a short video clip.

Instant Alerts

Quickly receive a push notification alert with a link to the video attached, so you can decide how to respond.

Live View Mode

Easily access on-demand video streaming through the Blink app.

View the image full size
Easy Set Up
Step 1:
Create an account
on the Blink app
Step 2:
Plug in, add sync module (included),
and connect to Wi-Fi
Step 3:
Insert batteries and
add your camera
Click Here to Order Now
Five Star
Customer Reviews
Buy this product! "Great quality, very easy to set up and use. Love it! I am a 70 year old female and had it up and running in less than half an hour"

- Vicki M.

Great camera for the price "This blew me away. The picture is so clear. It was easy to set up and use. I will be getting another one!"

- Michael S.

Superb Camera "This is a fantastic camera... The video clarity is amazing. The motion detection is flawless. It detected motion from my street around 75 feet away at night time."

- Steve

Very good video "Nice video, easy to install clear video image"

- Jamie L.

Image Quality Amazing "Easy install, User Friendly Interface, Image Quality amazing"

- Linda O.

Works great and easy set up "Very easy to set up and it works really great. I had it running and mounted to my house in under and hour….The pictures are so clear and the audio is at a perfect leave but the is a slight delay in talking. I would recommend this security camera to anyone."

Amazon Customer
Reviews are for XT2 Cameras/Systems
PEACE OF MIND WITH BLINK
Blink makes smart home security simple. Our innovative, wire-free security cameras help provide you with peace of mind. They allow you to see what's going on at your home by being alerted of motion as it happens. All Blink cameras are easy to install and run on 2 AA 1.5V Lithium Metal Batteries which can last up to 2 years!**
Blink has helped customers around the world spot countless cases of package theft and home invasion. These systems help keep families feeling safe and secure at home or when they are away.
THIS OFFER IS NOT AVAILABLE IN STORES
Fill Out The Form Below To Order Your Blink System Now!
OFFER DETAILS:
Order your Blink Complete Home Package for just 4 monthly payments of $49.99 (Free Shipping), or one easy payment of $199.96. Your 3 remaining payments of $49.99 each will be charged to original method of payment in 30 day increments from date of original order.
Due to global shipping delays, please expect your order to arrive within 7 – 20 business days. Longer shipping timeframes will apply to AK and HI. If you purchase rush shipping, the product will ship within 2-3 business days.
Sales tax applied where applicable. Offer only available within the US.
*30-Day Money Back Guarantee. If for any reason you are not completely satisfied with your product, simply return it within 30 days for a full credit or refund. Customers are required to pay for returns shipping. Camera and systems should be in 'like new" condition. See Return Policy for details.
**Two AA 1.5V lithium metal batteries last up to two years, based on typical use of Live View, motion-activated recording, and two-way talk (only available on XT2). Battery life will vary based on device settings, use, and environmental factors. Use of two-way talk will reduce battery life.